M.Me Links (a.k.a M-Me Links, Messenger Links, M-Dot-Me Links, Mmmmm links) are an essential component of your conversational marketing strategy for two reasons.
First, Facebook Messenger stands to be THE revenue channel of 2019 for businesses on Facebook. You may have an email list already, but do you get 80% open-rates and 25% CTRs on your emails?
M.Me links allow you to migrate your users over to a more engaging and effective conversation channel with your customers.
Second, ShopMessage combines the versatility of a hyperlink, the efficiency of automated user flows, and the authenticity of a conversational interface. This triple-threat marketing tool helps you collect all the info you need while building an ongoing relationship with your Messenger contacts.
This new functionality enables businesses to create a scalable concierge-style experience for customers discovering their Facebook Messenger chat from across the internet.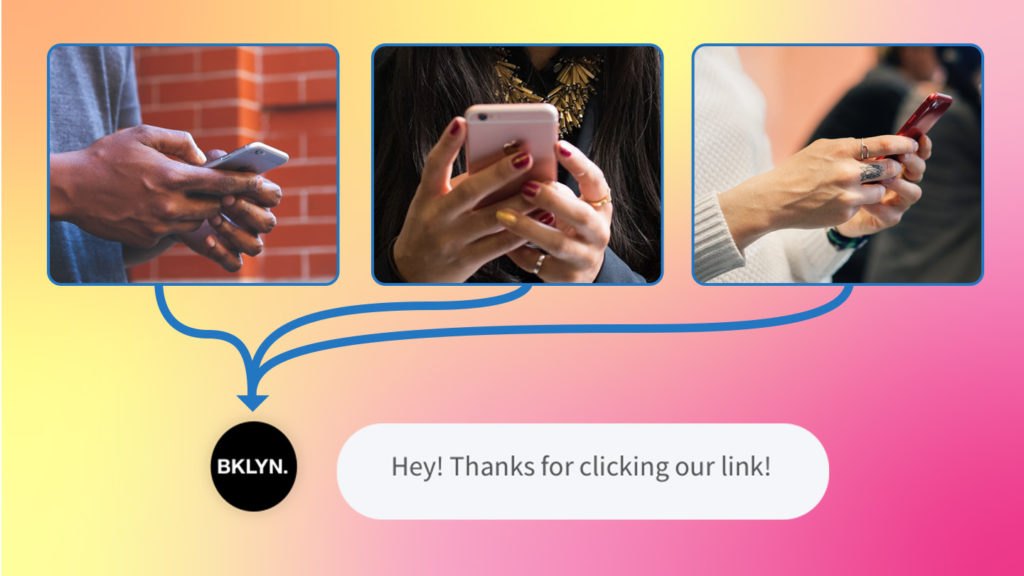 What are M.Me Links?
In 2016, Facebook announced M.Me Links. These are a native feature that allows businesses to spread links around the internet for potential customers to discover. When clicked, these links open up a Messenger conversation with your Facebook business page.
Facebook created usernames for your Facebook pages which make it easier to find your business on Facebook. We set "shopmessage" as our custom identifier. When you click https://www.facebook.com/shopmessage, you're taken to the Facebook page for ShopMessage.
You business page's M.Me links also use these identifiers. When you click https://www.m.me/shopmessage, you're taken to a Messenger chat conversation with our business page.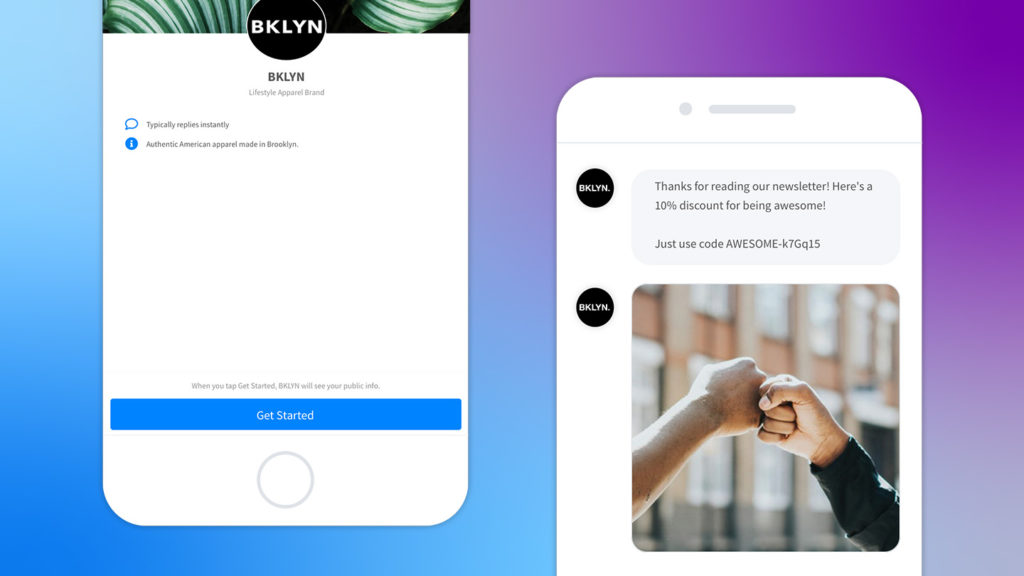 When you arrive in this conversation, one of two things will happen:
Visitors who do not have an existing conversation with our Facebook page on Messenger will see a "Get Started" button. When a user clicks this button, they are saying to Facebook "Yes, let me talk with this business. Let this business to talk to me." Clicking the button will display the Messenger thread.
If you have already had an existing Messenger thread with our business, then you will see our history together.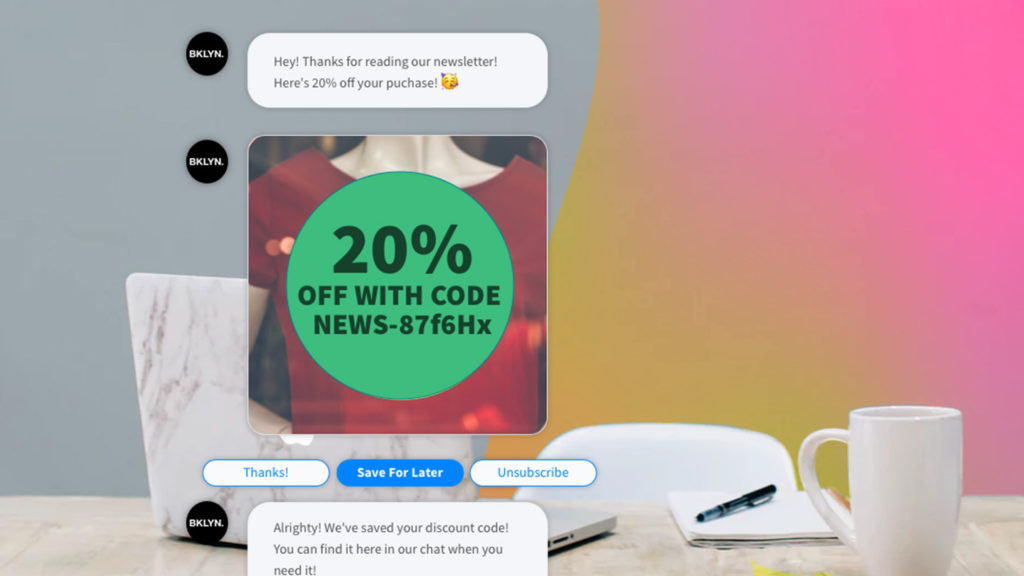 Why You Should Care About These Links Now
Although Facebook has honored custom ref params on M.Me links since the feature has been available, you couldn't use them for much more than tracking traffic.
Don't get me wrong, tracking traffic is important. In fact, ShopMessage lets you track link clicks and revenue associated with customers earned through each of your M.Me links so you can drill down into the traffic sources that are working for you.
But what if you don't want the customer journey to stop there?
Now you can continue the conversation with the people clicking through to your brand. You'll be able to customize a unique set of responses for users that click M.Me links made in ShopMessage. You will also have data tracking the clicks and sales driven by your custom M.Me links.
This is the first significant improvement in your customers' experiences with M.Me Links since 2016. Now visitors can receive an immediate response from your brand that speaks to where your customers are coming from.
They won't have to type in anything and wait for a human to respond. Your chat experience will be more engaging because it says the right thing to your visitor as soon as they arrive.
Oh, and we made it so you can make your custom ref param any string of text you want. Remembering and sharing links should be easy.
How Your Customers Benefit From Better M.Me Chat Experiences
The key change here is context.
Now, you can craft intelligent, thoughtful responses that acknowledge the preceding context of your customer's journey. Rather than staffing someone behind the chat, your responses will be ready to deploy whenever a visitor appears through your link.
Your customers won't experience the confusion of getting excited about your brand, clicking the link, and not having any kind of follow-up to push them through to the next step of your marketing funnel.
Merchants using ShopMessage can use M.Me Links to create a conversational experience. These messages greet visitors coming from different traffic sources across the web in a contextually relevant way. A few words go a long way in easing the transition into a Messenger conversation with your brand.
You can tailor your custom ref parameters to different incoming customer experiences.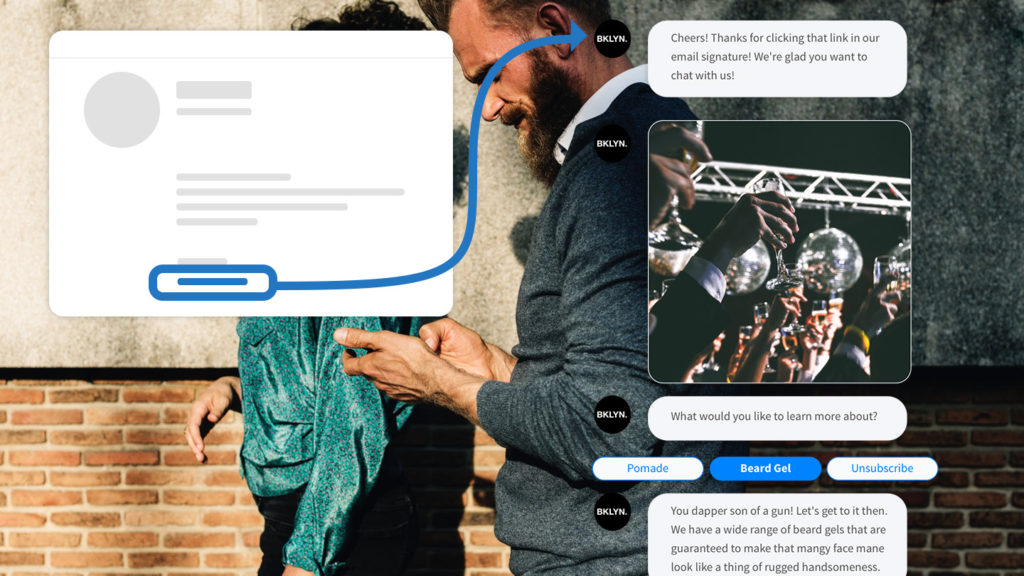 3 Examples of Possible M.Me Customer Experiences
1 A user clicks a link in your email newsletter, blog or twitter feed and receives a dynamic discount code. It's a great way to thank them for their readership.
2 A visitor sees an ad on Instagram with a link to learn more about your products and services. Clickers are taken to a Messenger chat thread that asks them some easy quick-reply questions. These can help identify where in the purchasing cycle they are or what their preferences are. Then you can send them a link to the most appropriate landing page.
3 A customer receives their item. The packing slip has a QR code on it. When scanned, it sends them an animated gif in Messenger that thanks them for being a loyal customer.
There is no limit to how many M.Me Link parameters you set up. Just make sure that each parameter is unique to your page.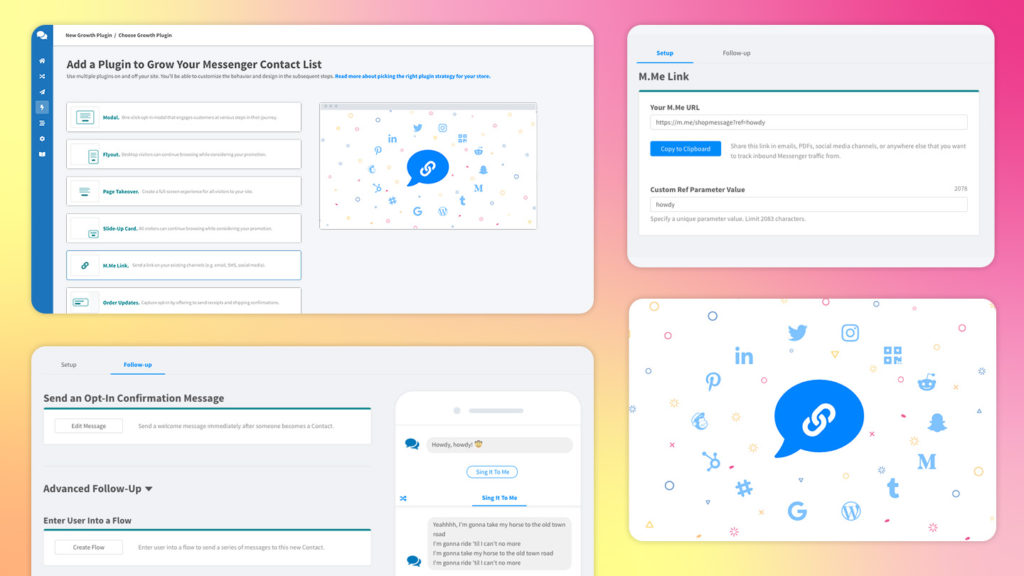 How to Get Started Using Conversational M.Me Links
ShopMessage merchants can create conversational M.Me Links like they would other growth plugins. Select M.Me from the list of Growth Plugin types in the Growth Plugin creation flow.
M.Me Links are a type of Growth Plugin. This is because they help businesses grow their relationship with more customers in Messenger. Using M.Me Links made through ShopMessage is a win-win. They create a great experience for your customers while growing your brand's list of Messenger contacts along the way.
Contacts created through your M.Me growth plugins will qualify for other Messenger Marketing flows you have set up in ShopMessage. This includes customer retargeting flows like cart abandonment and browse abandonment. Instead of just creating a chat, you're creating a future relationship with these visitors.
Lastly, M.Me Links work across the internet wherever links are shared. Here are a few ideas to help you get started.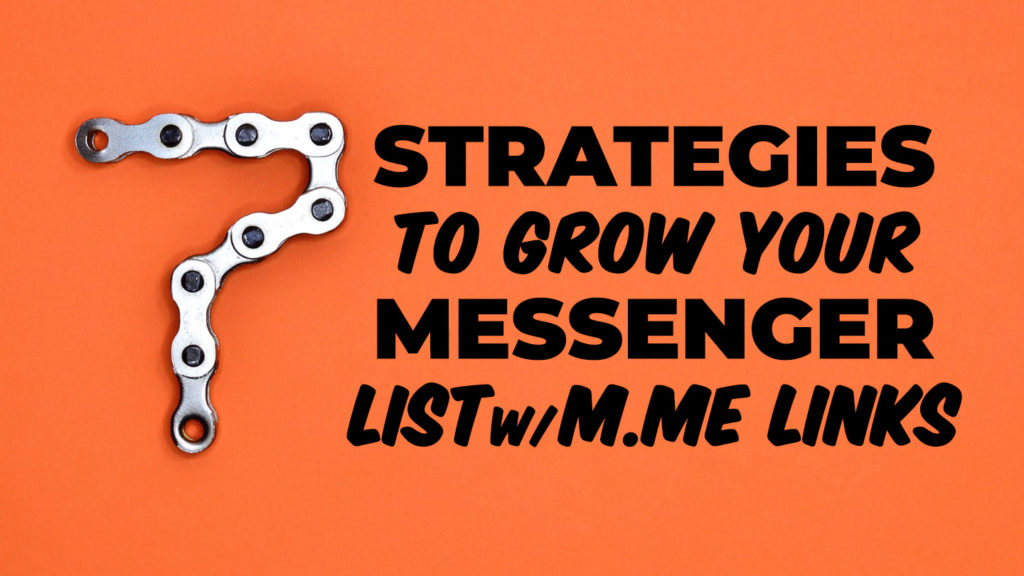 7 Strategies to Grow Your Messenger List with M.Me Links
1. Migrate Your E-Mail List to Messenger
Distribute in your emails and email signatures and convert those email subscribers into more engaged Messenger subscribers. Email has served us well for years, but you want to make sure that you are able to reach your customers wherever they happen to be. Using your email list to turbocharge the growth of your Messenger list is a great way to increase your ability to reach customers who may not always check their email.
2. Re-Engage Your Social Media Followers
Share them in social media posts. Name me a social media platform that doesn't give you the way to share links? Tweet your links, drop them in a Facebook post description, pair with a Pinterest infographic pin, and even your Instagram swipe-up links! Tailor the next step of the acquisition funnel to reference the preceding step's contextual content.
3. Leverage Influencer Reach on YouTube and Instagram
Sponsor a YouTuber / Influencer and have them stick the link in their video descriptions or bio. Drill down deeper with partnerships with your existing network of ambassadors. Create a mutually beneficial experience for your two audiences by making the experience super personal and enriching for the audience, with detailed conversation metrics at every step of the way.
4. Embed Links in Your Digital Marketing Content
Insert a Messenger CTA link in your digital marketing content. Longtail contacts will still receive the same appropriate messaging whether they find you immediately, or 5 months down the road. Imagine your e-book getting passed around and having the tracking to see all the new customers being driven by that document.
5. Print Dynamic QR Codes on Branded Materials
Put it in a QR Code and print it on your packaging materials. It's a great way to remind customers that there's more you can offer them. Imagine a code on your boxes or bags that can be scanned to hook your customers up with a Free Shipping discount. Print limited edition promo QR code shirts for your ambassadors to wear IRL for some guerilla marketing at high-traffic events like Coachella or South by Southwest.
6. Set-up an M.Me Link in your Footers
Have your M.Me link available as a contact channel on your website. It's a nice alternative if you don't have a dedicated customer support agent. When visitors have questions or demand to speak to the manager, you can send them here. An M.Me Link designed to handle inquiries and FAQs can be a great way to get people the answers they need without bombarding your customer support channels.
7. Text it!
Daily Messenger volume now exceeds peak SMS volume. Texting a link is a great way to convert your SMS subscribers into Messenger contacts. Conversations happening over Messenger are less disruptive to your customers. Become more accessible via Messenger with additional signals to reach your customers on Facebook
Are you ready to get started?